ARTIST: BETHANY FACKRELL
---
Bethany Fackrell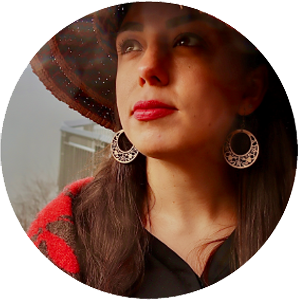 Bethany Fackrell
wiʔaac (hello)! My name is Bethany Fackrell, and I am a Snoqualmie Tribe member, a veteran, and an artist.
My passion for art started at a young age, and after serving in the Navy I reconnected with my Native roots through art. It was then I began painting on deerskin drums, each of which I have gifted. Gifting is a huge part of our culture, and I love to carry on this tradition. As my experiences and teachings grow, so does my art. I use traditional Salish patterns in a contemporary way to bring my culture to light. My art pieces offer this by spreading teachings, stories, and real experiences. 
My tribe has always been my second home and my family. I have memories of our tribe's office trailer, where my elders fought for our tribe's re-recognition. I remember catching salmon from night until morning, of gatherings at our sacred falls, of my canoe family. One of my most honorable moments was pulling with my canoe family from our home rivers to the ocean waters of Lummi in 2019. Another was being a part of the restoration of the Kokanee at Lake Sammamish.
Since my transition from the military to working for my tribe in 2017, I have become a very active tribal member once more. I am part of our tribal color guard, and I am very involved in our cultural ceremonies, gatherings, meetings, and harvests—being a Snoqualmie Tribal member is an overall way of life for me. For me, it is all about offering my hands whenever, wherever, or however I can. I raise my hands in thanks to the ones before us and our elders who paved the path for the generations to come.
Sorry, there are no products in this collection